Aceally ventilated stack-n-nest containers are made of impact-resistant, high density polyethylene for long lasting durability. Reusable hand-held containers and trays allow for protecting and transporting agricultural and nursery items. Economical improvement over single-use corrugated cartons and stack when full and nest when empty. Narrow maintains center of gravity and ensures easy handling. Ventilated design and smooth surfaces allows for easier cleaning, accurate temperature control and minimized cooling time. Radius corners prevent product damage. Used for moist environments, field harvests, in-plant handlings and staging/processing of fruits and vegetables. Available in FDA-approved materials. Color is green. Outer and inner dimensions vary per container.


1.Stack when loaded to protect contents, nest when empty with 180 degree turn – 50% nesting ratio
2.Light weight and durable storage containers
3.Food grade plastic, dishmachine safe
4.Can be placed on a dolly for easy movement throughout operation
5.Increased sanitation
6.Improved ergonomics
7.Can be placed on a dolly for easy movements throughout operation
-Application:
These fruits & vegetable storage crate in different models are designed for handling of fruits and vegetables. Considering the perishable nature of fruits and vegetables, crates have very good ventilation and smooth interiors with sturdy exteriors to handle load. Millions of Supreme fruits and vegetable crates are being used in storage and transportation of tomato, apple, orange, grapes, mango, banana.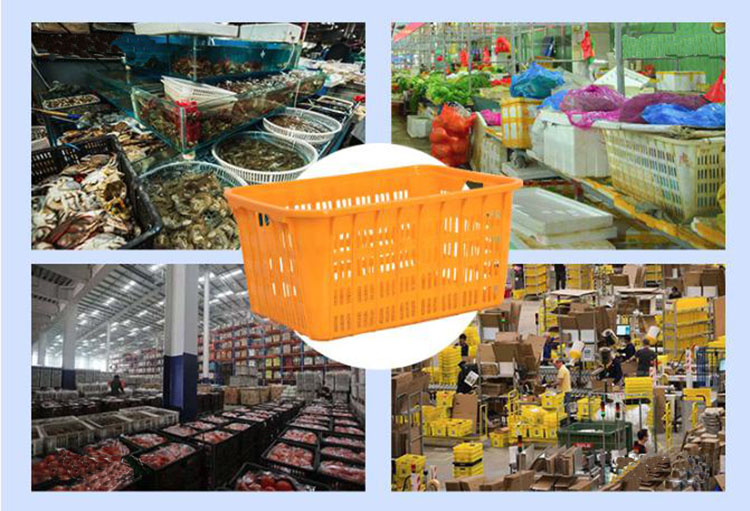 -Packing&Shipping:

Nestable with stretch film package to avoid scratch, then load into the container.